2015 was the second official year of the Mixels franchise.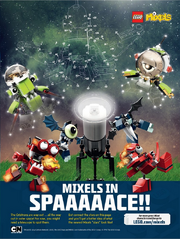 Storyline
We headed into Outer Space, with the discovery of the alien Orbitons and Glowkies tribes on Mixel Moon. Then, we met other new Planet Mixel-based tribes. King Nixel was also introduced, as well as cousins of long-known tribes.
Series
Events
Trivia
Sources and References
Ad blocker interference detected!
Wikia is a free-to-use site that makes money from advertising. We have a modified experience for viewers using ad blockers

Wikia is not accessible if you've made further modifications. Remove the custom ad blocker rule(s) and the page will load as expected.