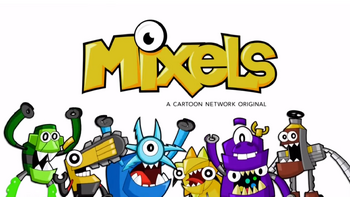 A group of Mixels set out on a quest for the mythical Mixamajig, not knowing that it is part of King Nixel's evil plot.
Episode
Act I
Scolding of Major Nixel
Meet the Frosticon Cousins
Finding the Chosen One
A Sign
Mondo Mixes
Act II
Just a Pitstop
To Lixer Land
The Long Lost Mixamajig
King Nixel vs. the Ultra-Miximum Max
The Weldos and Mixopolis
Videos
Promotions
Clips
Miscellaneous
Other
To return to "A Quest for the Lost Mixamajig" and read the full episode summary, click here.
Ad blocker interference detected!
Wikia is a free-to-use site that makes money from advertising. We have a modified experience for viewers using ad blockers

Wikia is not accessible if you've made further modifications. Remove the custom ad blocker rule(s) and the page will load as expected.