From Mixel Moon Madness onwards, numerous freelance character designs appeared as background Mixels to represent the other Mixels of a tribe besides the main three to six.
The Bats were revealed to be background Glowkie Mixels.
Most of the background characters show up during the scene of which everyone meets up at the Mixamajig Threshold and they begin to question who the chosen one is.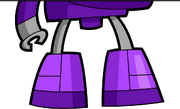 The lower body of a single background Wiztastic, dubbed Mr. Ius, shows up in the Mixamajig Threshold scene. His model is somewhat recycled from the first Mondo Mix, only colored purple and with a small square replacing the slime cannon.
When the Swamplands are introduced, two background Glorp Corp Mixels appear.
A couple of background Munchos first appear having a picnic when Muncholand is introduced. Soon after, many more background Munchos show up at a party. Later on, the same Muncho Mixels are depicted in the corners of the congregation scene.
Unknown tribe
A group of background Mixels from an unknown tribe appear in the top left corner of the congregation scene.
Faculty
Student Body
Other
Both known staff are Spikels.
Infernites
Electroids
Frosticons
Glorp Corp
Wiztastics
Munchos
Miscellaneous
Five uniquely-designed Mixies were meant to be building challenge focuses on the LEGO website. However, only two were released.
Trivia
Appearances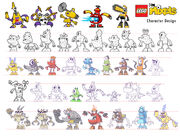 Other
Characters
Mixels

Nixels
King Nixel

/ Major Nixel


/ Muscle Nixel

/ Flyswatter Nixel

/ Boomerang Nixel

/ Cannon Nixel

/ Boxer Nixel
/ Catch Up Nixel
/ Painted Nixels

/ Tentacle Nixel

/ Nixie

/ Nixel Guard


Other Species
Maximum Mixel

/ Mixamals
/ Living Flames

/ Chickens

Ad blocker interference detected!
Wikia is a free-to-use site that makes money from advertising. We have a modified experience for viewers using ad blockers

Wikia is not accessible if you've made further modifications. Remove the custom ad blocker rule(s) and the page will load as expected.