Ballooñata
Information
Appearances
Murp
Type
Party tool
Ballooñatas are items found in Mixel Land.
Appearance
Being a combination of a balloon and a piñata, they look like a paper horse that is made of different colors, with the ears and feet made out of inflated balloons. They are often filled with candy.
Background
Shuff is seen holding it, and is later set up in the tree, where Teslo tries to hit it.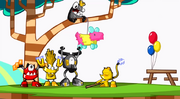 Ad blocker interference detected!
Wikia is a free-to-use site that makes money from advertising. We have a modified experience for viewers using ad blockers

Wikia is not accessible if you've made further modifications. Remove the custom ad blocker rule(s) and the page will load as expected.