"During this morning's rush hour, police officer Busto managed to successfully bust and jail a pair of runaway handcuffs. The handcuffs were later discovered to belong to officer Kuffs and have now been returned to their rightful owner."
— LEGO website, Mixopolis Breaking News
Description
Personality
This sweet MCPD tribe member is just too nice and will let prisoners talk their way to freedom. Keep Busto's jail cell closed or this charming Mixel will get in trouble with Kuffs!
Physical Appearance
Busto resembles a prison/jail. He has two flat, buck teeth on his upper lip and three sharp teeth on his bottom lip. His arms are blue with grey wrists. He has short grey legs and his feet are black with three sharp toes. He has a red, white, and blue siren at the top of his head. Behind himself is a cage that he uses to trap bad guys.
Ability
Since his body is a jail cell, his body is hollow, allowing him to store certain entities in it, such as criminals.
Biography
Early life
Little is known about Busto's past.
First adventures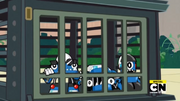 The Sergeant of the MCPD called Busto and his fellow officers while they were on a snack break. He told them to head to the Mixopolis Zoo and handle the Mixeloptor outbreak. When they arrived, they decided to max to fight the monsters. However, that failed, and the three were de-mixed, thrown and locked in a cage. ("Every Knight Has Its Day")
One day, Busto and his brothers got a noise report from the Medivals over the Mixies not playing their music loud enough. After threatening the Mixies with arrest, they started to play louder, and all the tribes started to dance, closing the case. ("Mixopolis Music Mix-Up!")
One day in Mixopolis, Busto was with his brothers and the Medivals. He accidentally got hit by his own crowbar, and then collided with Paladum, fusing the two together and letting them get the lost cookironi. ("Wild Cookironi Chase in Downtown Mixopolis!")
Memorable Quotes
"Let's max!" - Busto, Every Knight Has Its Day
Set Information
Busto
Information
Series
7
Item Number
41555
Packaging
Dark blue bag
No. of Pieces
69
Price
 $4.99


 $5.99
 €3.99
 £2.99
 29.95 kr

In-Booklet Code
None
Busto was released as part of the Series 7 Mixels sets in the February 2016 product wave. His set number is 41555 and he contains 69 pieces.
The set includes a Nixel with a crowbar and frustrated expression. The Nixel can be put inside of Busto.
41555 Kuffs can be combined with 41554 Kuffs and 41556 Tiketz to create the MCPD Max.
LEGO Shop product description
Don't let anyone bust out of living jail cell Busto!
This sweet MCPD tribe member is just too nice and will let prisoners talk their way to freedom. Keep Busto's jail cell closed or this charming Mixel will get in trouble with 41554 Kuffs!
Lock up prisoners in the living jail cell that is Busto of the 2016 LEGO® MIXELS™ MCPD tribe!
Busto features an opening jail cell, posable joints, translucent blue and red elements, plus a crowbar for play.
Collect all 3 MCPD tribe members in LEGO® MIXELS™ Series 7 to build the MAX!
Go to LEGO.com/MIXELS for exclusive building instructions, games, animations and much more.
Watch all your favorite MIXELS™ characters on Cartoon Network.
Stands over 1" (4cm) tall.
Trivia
His design strongly resembles that of the Munchos Max. He is also very similar to Waka.
He is the first Mixel to use the squared-off tooth piece.
He lacks his crowbar in his static cartoon form.
He has the least lines in Every Knight Has Its Day, and the cartoon so far, having only one line with one word.
His head is hollow in his LEGO model, yet it is not in his cartoon form.
He appears to be somewhat overweight and embarrassed about being mocked about it, as seen when Tapsy makes loud thumping noises while he waddles as a prank in one of the Mini Movies.
Behind the Scenes
Name and basis
Busto's name is a play on the word "bust".
He appears to resemble a prison cell.
Voice
In the TV series, and where sound clips are used, Busto's voice is provided by Chris Cox.
Real-life history
Reveals
Busto was first revealed as a character in the Mixels franchise when the Series 7 set list was leaked online on August 10, 2015.[1]
On October 11, 2015, official images of the sets of Busto and the rest of Series 7 and 8 were leaked in LEGO's online server.[2]
Busto reappeared with the rest of Series 7 through 9 at Toy Fairs in late January and early February 2016.[3][4]
Content
Busto debuted in the TV series on March 5, 2016 in Every Knight Has Its Day, while his LEGO set officially became available on February 1 with the rest of Series 7.
Gallery
Main article: Busto/Gallery
Appearances
Games

Other

Mixels Websites

Breaking News

Police Catch Cookie Thief
Busto Busts Runaway Cuffs

Mini Movies

Wild Cookironi Chase in Downtown Mixopolis!
The Music Prank

LEGO Club Magazines

Mixed Up Lunch!
Schoolhouse Mix-Up!
Sources and References
External links
Characters
Mixels

Nixels
King Nixel

/ Major Nixel


/ Muscle Nixel

/ Flyswatter Nixel

/ Boomerang Nixel

/ Cannon Nixel

/ Boxer Nixel
/ Catch Up Nixel
/ Painted Nixels

/ Tentacle Nixel

/ Nixie

/ Nixel Guard


Other Species
Maximum Mixel

/ Mixamals
/ Living Flames

/ Chickens

Mixels Series 7 (February 2016)
LEGO sets

MCPD
41554 Kuffs
/ 41555 Busto
(Nixel) / 41556 Tiketz
(Cookironi)
MCPD Max


Medivals
41557 Camillot
/ 41558 Mixadel
/ 41559 Paladum
(Nixel)
Medivals Max

Mixies
41560 Jamzy
(Nixel) / 41561 Tapsy
/ 41562 Trumpsy

Mixies Max
Ad blocker interference detected!
Wikia is a free-to-use site that makes money from advertising. We have a modified experience for viewers using ad blockers

Wikia is not accessible if you've made further modifications. Remove the custom ad blocker rule(s) and the page will load as expected.