Chickens are creatures that exist in Mixel Land.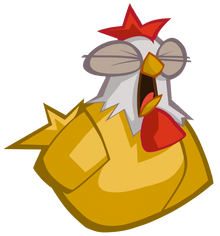 Description
Chickens are similar to the real life animal with the same name.
Background
Chickens appear as the Cubit humor when the Electroids and Cragsters Max.
The Ship-Space has a wind turbine with a rooster on top of it.
Before a Murpball match at Mixopolis Middle School, Camillot says that if they run around "like a bunch of helpless chickens", they'll be much harder to hit.
Trivia
It is possible that chickens exist outside of Mixing. The reason is that Rokit says in Mixel Moon Madness that the dome of Orbitopia is as fragile as an eggshell. One of the things that could have laid an egg would have to be a bird or a lizard, one of the most common being a chicken.
This is the only non-Mixamal animal seen on the show.
Appearances
Characters
Mixels

Nixels
King Nixel

/ Major Nixel


/ Muscle Nixel

/ Flyswatter Nixel

/ Boomerang Nixel

/ Cannon Nixel

/ Boxer Nixel
/ Catch Up Nixel
/ Painted Nixels

/ Tentacle Nixel

/ Nixie

/ Nixel Guard


Other Species
Maximum Mixel

/ Mixamals
/ Living Flames

/ Chickens

Ad blocker interference detected!
Wikia is a free-to-use site that makes money from advertising. We have a modified experience for viewers using ad blockers

Wikia is not accessible if you've made further modifications. Remove the custom ad blocker rule(s) and the page will load as expected.