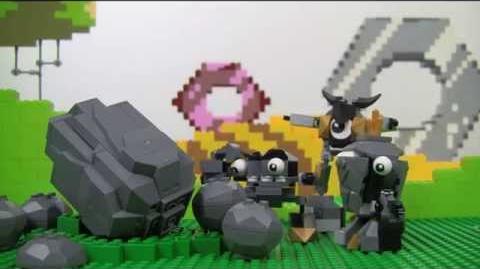 Crystals
are an object in
Mixel Land
. They only appear in a stop-motion video on
LEGO.com
.
Trivia
They are found in boulders in the Mine. They are more common in larger boulders than smaller ones.
They have three variants: green, gold, and red. The green variant is more common.
The larger ones are so hard, even one Cragster can have a hard time smashing them. But when three Cragsters Max, it is easy for them to smash through it.
 Shuff, Chilbo, and Slumbo have a crystal on their heads. In Chilbo and Slumbo's cases, it is an ice crystal. Chilbo's crystal is also his brain.

Chillbo's crystal is brick-built, while Shuff's and Slumbo's use single crystal pieces.

King Nixel wears one on his head, resembling a crown. 
One of Dribbal's pieces used for snot in his LEGO set is a transparent lime green crystal, the same piece used for Shuff and Slumbo.
Giant crystals are an obstacle in Mixels Rush. They are partway embedded in rocks here.
Ad blocker interference detected!
Wikia is a free-to-use site that makes money from advertising. We have a modified experience for viewers using ad blockers

Wikia is not accessible if you've made further modifications. Remove the custom ad blocker rule(s) and the page will load as expected.