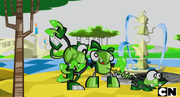 Fetch the Cubit is a game in Mixel Land.
How to Play
A dog-like Mixel (like Glurt) and a Cubit are required in order to play. The Cubit must be thrown and the dog-like Mixel must obtain it and return it to the Mixel that has thrown the Cubit.
Background
Glomp plays Fetch the cubit with Glurt after they make contact with the Spikels. Glomp begins to play by throwing the Cubit. Then, Glurt goes to get it. Later, Scorpi accidentally bumps into Glurt when Glurt obtains the cubit, creating a Murp.
Trivia
It is played by the Glorp Corp tribe.
It is similar to real-world fetch, although a cubit is used instead of a twig, ball, or a dog toy.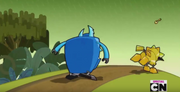 Ad blocker interference detected!
Wikia is a free-to-use site that makes money from advertising. We have a modified experience for viewers using ad blockers

Wikia is not accessible if you've made further modifications. Remove the custom ad blocker rule(s) and the page will load as expected.