The Frosticons Max is a Max that made its debut in Calling All Mixels.
Physical Appearance
Overall, this Max resembles Slumbo the most.
The Max's head resembles Slumbo's body upside down with his eyes on it. His neck is two shades of blue and his body. His bottom jaw has two buck teeth and has ice on the side of his jaw. His arms are similar to Slumbo except the blue spikes on them. He has Flurr's toes and Lunk's ice armor. He also has a tail similar to Flurr's and he also has Slumbo's hands.
Set Information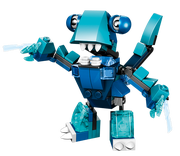 The Frosticons Max can be built using parts combined from Mixels sets 41509 Slumbo, 41510 Lunk, and 41511 Flurr. Extra parts are leftover after construction. Instructions are available on the LEGO website downloads page.
Trivia
Gallery
Main article: Frosticons Max/2014/Gallery
See also
External links
Maxes
Mixels Series 2 (June 2014)
LEGO sets

Frosticons
41509 Slumbo

(Nixel) / 41510 Lunk

/ 41511 Flurr


Frosticons Max


Fang Gang
41512 Chomly

(Nixel) / 41513 Gobba

/ 41514 Jawg


Fang Gang Max


Flexers
41515 Kraw

/ 41516 Tentro

/ 41517 Balk
(Nixel)
Flexers Max

Wrong Colors / Nixel "Mix Over" / Bar B Cubes / Snow Half Pipe / Hamlogna Conveyor Belt Madness / Vaudeville Fun / Fang Gang Log Toss / High Five / Elevator
Ad blocker interference detected!
Wikia is a free-to-use site that makes money from advertising. We have a modified experience for viewers using ad blockers

Wikia is not accessible if you've made further modifications. Remove the custom ad blocker rule(s) and the page will load as expected.