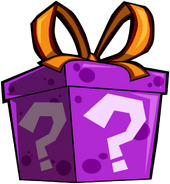 Gift Boxes
are types of presents in
Calling All Mixels
. They include a random prize, which can be used for building cubit defense towers and upgrading cubit collectors.
Background
Calling All Mixels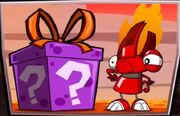 Gift boxes are seen in about every level in Calling All Mixels. They are giant, square-shaped, and purple and include a random prize used as an ingredient.
There is also a different version of the gift boxes, which are angular and blue and sometimes gives out inspirations, cutscenes, and instructions. However, when all the bonuses are given out from the blue boxes, they will only give out prizes like the purple ones.

Trivia
Once all the unlockables are given from the blue boxes, they will only give out items.
Items given out include cubits, flaming coconapples, ceramic figurines, and other various items that appear exclusively in their own areas.
Ad blocker interference detected!
Wikia is a free-to-use site that makes money from advertising. We have a modified experience for viewers using ad blockers

Wikia is not accessible if you've made further modifications. Remove the custom ad blocker rule(s) and the page will load as expected.