Mixels are able to contract
Illnesses
.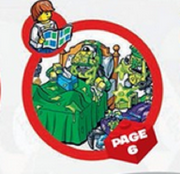 Background
The first Mixel to catch an illness was Glomp. While he had his cold, he was bed-ridden and could not stop sneezing. It has not been shown what the cure is. ("Glomp's Gooey, Sneezy Cold!")
Globbie claimed he had allergies after he sneezed on Mixadel. ("Every Knight Has Its Day")
Trivia
Despite his bad cold, Glomp is also always stopped up with a milder one, which is why his nose continues to run.
Ad blocker interference detected!
Wikia is a free-to-use site that makes money from advertising. We have a modified experience for viewers using ad blockers

Wikia is not accessible if you've made further modifications. Remove the custom ad blocker rule(s) and the page will load as expected.