The Klinkers Max is a Max that made its debut in Mixels Rush.
Physical Appearance
Overall, this Max resembles Jinky the most.
The Klinkers Max has Kamzo's eye, yellow and gray stripes on his face, a yellow mouth with an underbite and three teeth, long gray arms with brown hands that have four gray and yellow fingers to Gox's, and big feet to Jinky's but mostly silver. His feet are mostly gray, with accents of black and brown and gold toes. His eyelid is light grey, the one eyeball to Kamzo's and one of Jinky's long arms is on top of his back.
Set Information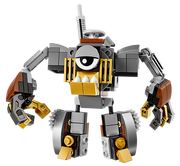 The Klinkers Max can be built using parts combined from Mixels sets 41536 Gox, 41537 Jinky, and 41538 Kamzo. Extra parts are leftover after construction. Instructions are available on the LEGO website downloads page.
Trivia
There is also a failure of the Klinkers Maxing; the Klinkers Murp.
Just like Jinky, this Max's wheel on his head is light gray in LEGO, but black in animated form.
In LEGO, he has a tube on his back that can be turned to make his arms rotate.
Gallery
Main article: Klinkers Max/Gallery
External links
Maxes
Mixels Series 5 (June 2015)
LEGO sets

Klinkers
41536 Gox

(Nixel) / 41537 Jinky
/ 41538 Kamzo

Klinkers Max


Frosticon cousins
41539 Krog
(Nixel) / 41540 Chilbo
/ 41538 Snoof

Frosticons Max


Lixers
41542 Spugg
/ 41543 Turg

(Nixel) / 41544 Tungster

Lixers Max

Ad blocker interference detected!
Wikia is a free-to-use site that makes money from advertising. We have a modified experience for viewers using ad blockers

Wikia is not accessible if you've made further modifications. Remove the custom ad blocker rule(s) and the page will load as expected.