The subject of this article has not been released in the United States




This article covers something that has only been released in a foreign country from the base of the show and many of our users. Because of this, the article may lack important details.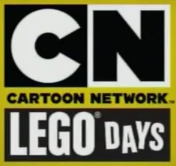 Were you looking for LEGO Day?
Cartoon Network LEGO Days is the name of an event that occured on the Italian Cartoon Network's alternate feed (+1) that started on February 4, 2017 and ended on February 12, 2017 that temporarily had the channel only air LEGO programs.
The event is similar to the American network's LEGO Day event; however, it took the schedule for several days. It was in promotion of the theatrical release of The LEGO Batman Movie.
All Mixels specials and shorts (including Movie) aired during this event.
Ad blocker interference detected!
Wikia is a free-to-use site that makes money from advertising. We have a modified experience for viewers using ad blockers

Wikia is not accessible if you've made further modifications. Remove the custom ad blocker rule(s) and the page will load as expected.