This article or section is about a topic that some consider not to be canon




While official, this page or section is thought to be non-canon.
LEGO Mixels: Let's Mix! is a Mixels book in the DK Reads - Beginning to Read series. It is written by Shari Last. It retails for $9.99.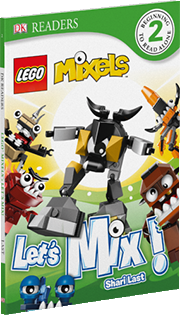 Official Description
Kids will love learning how to read with this new series from DK and LEGO Mixels™
LEGO Mixels: Let's Mix combines DK's new three-level reading scheme with LEGO Mixels, the new LEGO property, and will help kids learn how to read and learn to love reading.
Packed with bold, bright and colourful pictures your child will enjoy learning how to read with the brand new LEGO Mixels characters and all their stories. Full of fun, colourful characters these exciting kids' stories will get children reading. Featuring engaging and highly illustrated topics with true kid appeal.
Part of the new DK Reads series, a three-level reading scheme that helps children become confident readers, featuring engaging and illustrated topics. DK Reads is created in consultation with literacy experts and adheres to reading scheme guidelines so the grammar, vocabulary, and content are spot on for each stage. LEGO Mixels: Let's Mix! is at the 'Beginning to Read' level. Your child will love learning how to read, following the story and finding out what happens next with LEGO Mixels!
LEGO Mixels: Let's Mix! is a fun and exciting new LEGO book for kids.
Publishing Information
Published: 24/09/2014
Format: Hardback, 48 pages
RRP: $9.99
Price: AUD $9.99
ISBN 9781409355823
ISBN 1409355829
Publisher: Dorling Kindersley
Imprint: Dorling Kindersley
Origin: United Kingdom
Gallery
Ad blocker interference detected!
Wikia is a free-to-use site that makes money from advertising. We have a modified experience for viewers using ad blockers

Wikia is not accessible if you've made further modifications. Remove the custom ad blocker rule(s) and the page will load as expected.