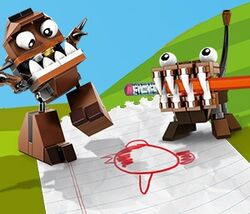 The
Make a Mixel... Make a Story! Competition
was a contest held in the LEGO Club Magazine,
July
/
August
2014
issue. All entries had to be received by August 15, 2014. Five winners received a $100
LEGO
gift card. The winners were announced in the
January
/
February
2015
LEGO Club Magazine.
Entrants were tasked to create their own Mixel with its own name, tribe, home, and powers.
Trivia
Slumbo and Tentro are the only Series 2 Mixels who did not appear on the page promoting the competition.
The Canadian issues of the magazine lacked the competition. Because of this, the January/February 2015 issues of the Canadian version of the magazine had the Mixed Up Maze in its place.
Gallery
External links
Ad blocker interference detected!
Wikia is a free-to-use site that makes money from advertising. We have a modified experience for viewers using ad blockers

Wikia is not accessible if you've made further modifications. Remove the custom ad blocker rule(s) and the page will load as expected.