Maximum Mixel

The shadow puppet form.
Information
Debut
A Quest for the Lost Mixamajig
Latest Appearance
A Quest for the Lost Mixamajig
Nicknames (aka)
 ?
Tribe
 ?
Position
God
Gender Preference
Male
Color
Blue
Special Features
Mask-like face
Likes
 ?
Dislikes
 ?
Quote
"Oh worthy one, take this key and never let it out of your sight!"
Voice Actor
King Nixel (puppet)
Game Abilities
 ?
"Oh great Maximum Mixel, if I'm really truly special, come on down and show me a sign!"
— Snoof
The Maximum Mixel is a god of the Mixels.
Description
Physical Appearance
The real Maximum Mixel has no known design to him. However, the Nixels created a hoax shadow puppet design of him. In this form, he is depicted as a blue face with three beard-like points at the bottom of his face and three hair-like points on top. He has two horns that are similar to King Nixel's shoulder pads.
Background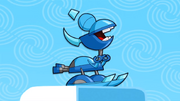 Maximum Mixel is believed to be worshipped by the Mixels. Mixels sometimes pray to the god if they truly want something, like being special.
Nixel plot
A shadow puppet hologram created by the Nixels was based on Maximum Mixel, and kept in a containment capsule and used as a ploy to trick and cause disorder among the Mixel species.
After being launched from Nixels Land, the capsule flew all the way to, and crashed in, Muncholand. After many Mixels inspected the site, the capsule opened up and bright blue light in the form of a hologram erupted from it. The hologram, of the Nixels' fake puppet of Maximum Mixel, told them about the Mixamajig, a fabled object. He gave the job of key-bearer for it to the Frosticon named Snoof, wished him good luck, and then disappeared. ("A Quest for the Lost Mixamajig")
Memorable Quotes
"Behold. I am the Maximum Mixel! I bring you great fortune and happy wonderfulness!" - Maximum Mixel shadow puppet, A Quest for the Lost Mixamajig
"But first, you perform a quest." - Maximum Mixel shadow puppet, A Quest for the Lost Mixamajig
"You must undertake a search for fantastic riches: the long-lost Mixamajig! To its possessor, the Mixamajig shall grant all of their wildest Mixing hopes and dreams! The question is, which among you is special enough to be chosen as the keybearer?" - Maximum Mixel shadow puppet, A Quest for the Lost Mixamajig
"Remember, chosen one, the key will show you the way. That's all for now. Toodle-loo!" - Maximum Mixel shadow puppet, A Quest for the Lost Mixamajig
Gallery
Main article: Maximum Mixel/Gallery
Characters
Mixels

Nixels
King Nixel

/ Major Nixel


/ Muscle Nixel

/ Flyswatter Nixel

/ Boomerang Nixel

/ Cannon Nixel

/ Boxer Nixel
/ Catch Up Nixel
/ Painted Nixels

/ Tentacle Nixel

/ Nixie

/ Nixel Guard


Other Species
Maximum Mixel

/ Mixamals
/ Living Flames

/ Chickens

Ad blocker interference detected!
Wikia is a free-to-use site that makes money from advertising. We have a modified experience for viewers using ad blockers

Wikia is not accessible if you've made further modifications. Remove the custom ad blocker rule(s) and the page will load as expected.