The Misical Muxels are an unseen Mixel band from Mixel Land.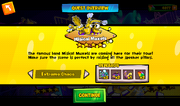 Background
The Misical Muxels' only confirmation of their existence comes from an Electroid mission from Calling All Mixels titled "Misical Muxels". In the mission, the band is coming to the Mountain City for a leg of their tour, and the goal of the level is to raise all the speaker pillars to set the scene for the band.
Trivia
The name Misical Muxels is a spoonerism of "Musical Mixels".
So far, they are the only mentioned, yet unseen, characters in the franchise.
The Misical Muxels are somewhat similar to the Wiztastics, Glowkies, Mixies and Pyrratz in the fact that they put on shows.

They are the most similar to the Mixies, as both are bands.
Characters
Mixels

Nixels
King Nixel

/ Major Nixel


/ Muscle Nixel

/ Flyswatter Nixel

/ Boomerang Nixel

/ Cannon Nixel

/ Boxer Nixel
/ Catch Up Nixel
/ Painted Nixels

/ Tentacle Nixel

/ Nixie

/ Nixel Guard


Other Species
Maximum Mixel

/ Mixamals
/ Living Flames

/ Chickens

Ad blocker interference detected!
Wikia is a free-to-use site that makes money from advertising. We have a modified experience for viewers using ad blockers

Wikia is not accessible if you've made further modifications. Remove the custom ad blocker rule(s) and the page will load as expected.