"Welcome, Mixel dudes, to the annual Mixel Mix Fest! Where we celebrate the totally rad, super-awesome power of the Cubit!"
— Flain
The Mix Festival, Mixel Festival or Mixfest is an annual event coordinated by all of the Mixel tribes. It was made to celebrate the power of the Cubits, mixing, maxing, and to a lesser extent, murping.
Background
Flain arrived late to the festival and was surprised to find out that no one was attending. He later discovered that the Nixels had captured his friends, and the festival was put on hold until he could find them.
Later, everyone was at the festival (most likely the previous one rescheduled after its problems), when Major Nixel ruined it with the Mega Nixel Mixel Nixer. It was unnixed and back to normal after the Series 1-2 leaders saved it.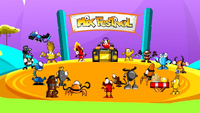 Trivia
Flain hosts this event. Additionally, a DJ turntable is spun by Vulk, and Zaptor is in charge of the hamlogna sandwiches.
Major Nixel is the one who ruined two festivals in a row.
Ad blocker interference detected!
Wikia is a free-to-use site that makes money from advertising. We have a modified experience for viewers using ad blockers

Wikia is not accessible if you've made further modifications. Remove the custom ad blocker rule(s) and the page will load as expected.