Mixies Max

Information
Cartoon Appearances
None
Primary Mixel
Jamzy
Secondary Mixel
Tapsy
Tertiary Mixel
Trumpsy
Purpose
Unknown
Ability(ies)
Unknown
The Mixies Max is a Max that debuted in 2016.
Physical Appearance
This Max resembles Tapsy the most.
Set Information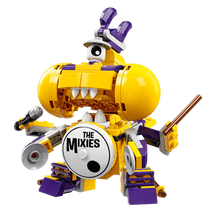 The Mixies Max can be built using parts combined from
Mixels
sets
41560 Jamzy
,
41561 Tapsy
, and
41562 Trumpsy
. Extra parts are left over after construction. Instructions are available on the
LEGO
website
downloads page.
Trivia
He is designed to resemble a one-man band.
His tail resembles a guitar.
He and the Medivals Max are the only Series 7 Maxes who never appeared in the show.
Gallery
Main article: Mixies Max/Gallery
External links
Maxes