This article has a conjecture name




LEGO or Cartoon Network has not given the official name of this subject, so it is purely conjectural. This template and page name will be used until an official name is provided.
The Mountain City, also known as the Electroid Kingdom, is a location in Mixel Land and a city very high up in the Mixel mountains. There are tall buildings, power lines, and poles. It is where the Electroids reside.
Sub-areas
Description
Appearance
The Mountain City appears to have a chrome landscape with a black background, and the Lightbulb Sun. It has a blue, electronic sidewalk leading to Electroid houses. There are also electrical trees scattered across the land.
"Dance Off!"
— World selection slogan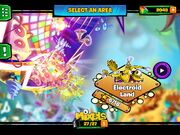 In Calling All Mixels, the Mountain City is shown as a giant dance club. The ground is lit like a dance floor with multicolored checkered panels. Large windmills are found around the area, which gives the city its energy. Strewn around the area are multiple stand-up arcade machines, lightning rods, disco balls, and sub-woofers.
Calling All Mixels Background Music
Trivia
Gallery
Main article: Mountain City/Gallery
Appearances
Games
Ad blocker interference detected!
Wikia is a free-to-use site that makes money from advertising. We have a modified experience for viewers using ad blockers

Wikia is not accessible if you've made further modifications. Remove the custom ad blocker rule(s) and the page will load as expected.