Were you looking for the song, Murpball? Click here.
"Well now, Murpball is my kind of game."
— Mixadel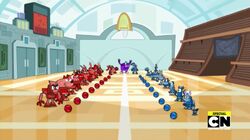 Murpball, sometimes written as Murp Ball, is a sport played in Mixopolis Middle School.
How to Play
Murpball is a game requiring two teams. There is usually a timer to the game, and when the time is done, the game is finished. In order to win the game, a team must hit each member of the opposing team with a Cubit Ball, resulting in them transforming into a murpified variation. Catching a ball thrown by the opposite team will also disqualify the opponent. If all members are taken out of the opposing team, then the other team wins.
Trivia
Camillot was unfamiliar with the game before he joined Mixopolis Middle School.
The game appears to be similar to the real-life game of dodgeball.
Mixadel seemed to like the game once he discovered what it was.
Ad blocker interference detected!
Wikia is a free-to-use site that makes money from advertising. We have a modified experience for viewers using ad blockers

Wikia is not accessible if you've made further modifications. Remove the custom ad blocker rule(s) and the page will load as expected.