Newzers Max
Information
Cartoon Appearances
Unknown
Primary Mixel
Screeno
Secondary Mixel
Camsta
Tertiary Mixel
Myke
Purpose
Unknown
Ability(ies)
Unknown
The Newzers Max is a Max that debuted in 2016.
Physical Appearance
This Max resembles Camsta the most.
Set Information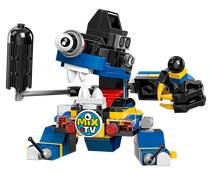 The Newzers Max can be built using parts combined from Mixels sets 41578 Screeno, 41579 Camsta, and 41580 Myke. Extra parts are left over after construction. Instructions are available on the LEGO website downloads page.
Trivia
He slightly resembles Niksput in his LEGO model. 
His bottom teeth were placed incorrectly at the Nuremburg Toy Fair 2016.
Gallery
Main article: Newzers Max/Gallery
External links
Maxes
Ad blocker interference detected!
Wikia is a free-to-use site that makes money from advertising. We have a modified experience for viewers using ad blockers

Wikia is not accessible if you've made further modifications. Remove the custom ad blocker rule(s) and the page will load as expected.