This article is a stub




You can help the Mixels Wiki by expanding it. Once there is approval from an administrator, this notice may be removed.
Stone Popcorn is a type of food in Mixel Land. It is eaten by the Fang Gang.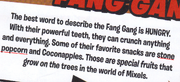 Trivia
It is the only food that has been mentioned, but not yet seen.
It is possibly created by the Cragsters and might be similar to Rocks, or even could be the exact same thing.
Regular popcorn also exists, as seen in Mixel Moon Madness.