Surgeo




Forms
Information
Debut
Nixel, Nixel, Go Away
Latest Appearance
Nixel, Nixel, Go Away
Nicknames (aka)
Dr. Surgeo (credits)
Tribe
Medix
Position
Leader
Surgeon
Gender Preference
Male
Color
White
Azure
Mint
Chartreuse
Grey
Special Features
Syringe arm
Cabinet body
Reflex hammer
Head mirror
Horns/moustache
Likes
Performing operations
Dislikes
Nixels
Quote
"Have you been flossing every day, Sharx?"
Voice Actor
Jess Harnell
Game Abilities
 ?
"Yesterday, a Nixel with a broken leg checked into the Mixopolis hospital, only to be seen running away screaming moments later. 'It was the doctor', the Nixel said. 'The size of that syringe, the horns on top of the head, the hammer in hand – it was like a totally mad person!"
— LEGO website, Mixopolis Breaking News
Doctor Surgeo is a Medix Mixel.
Description
Personality
With a medical cabinet for a body and a syringe arm, Surgeo is always equipped and ready to perform an operation. This hyper Mixel never sleeps and lives for the sound of the emergency bell. Surgeo may not be the calmest of the Medix, but they couldn't ask for a more energetic and enthusiastic leader.
Physical Appearance
Surgeo is mostly white in color. His head is mainly a tall, mint colored rectangular shape. It has two horns on his head, a grey head mirror on the middle, two eyes on each side with a mint rim surrounding them, and 3 white spikes of some sort on the top. He has five sharp teeth; three on the top, two on the bottom. His body is azure with a large white stripe running down the middle. His jaw is mainly white with an azure pattern on the top with a cabinet-like pattern on his body. His left arm is grey with a white accent at the top holding a black hammer, while his right arm is entirely grey and resembles a syringe. He has short, bowed legs with grey feet, with a white pattern on the bottom and a single mint toe on each foot.
Biography
First adventures
He and his brothers performed a regular dental checkup on Sharx. They later angrily confronted some Nixels that were lying about their findings about them. ("Nixels' New Adventure!")
During an attempt of the Pyrratz to try and rob the Mixopolis Bank, he and his brothers hid in the vault to scare the pirates off. ("Attempted Bank Robbery")
He and his brothers were once able to successfully do a medical procedure on an apple. ("Breaking News")
Further adventures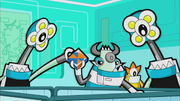 At Mixopolis General Hospital and with help from Skrubz, Surgeo performed a surgery on Krog with an unknown Lixer's head; mixing them together. ("Nixel, Nixel, Go Away")
Memorable Quotes
Set Information
Surgeo
Information
Series
8
Item Number
41569
Packaging
Mint bag
No. of Pieces
63
Price
 $4.99


 $5.99
 €3.99
 £2.99
 29.95 kr

In-Booklet Code
None
Surgeo was released as part of the Series 8 Mixels sets in the June 2016 product wave. His set number is 41569 and contains 63 pieces.
41569 Surgeo can be combined with 41570 Skrubz and 41571 Tuth to create the Medix Max.
LEGO Shop product description
Meet Mixopolis General Hospital's top surgeon Surgeo!
With a medical cabinet for a body and a syringe arm, Surgeo is always equipped and ready to perform an operation. This hyper Mixel never sleeps and lives for the sound of the emergency bell. Surgeo may not be the calmest of the Medix, but they couldn't ask for a more energetic and enthusiastic leader.
Get set to operate with top surgeon Surgeo of the LEGO® MIXELS™ Medix tribe.
Surgeo features a head that turns upside down for different expressions, opening medical cabinet body design, syringe arm and posable joints, plus a reflex hammer element.
Collect all 3 Medix in LEGO® MIXELS™ Series 8 to build the MAX!
Combine with 41566 Sharx from the Pyrratz tribe to create a fun new MIX!
Go to LEGO.com/mixels for exclusive building instructions, games, animations and much more.
Watchall [sic] your favorite MIXELS™ characters on Cartoon Network.
This set includes an age-appropriate building experience for ages 6 and over.
Stands over 2" (6cm) tall.
Trivia
He is the leader of the Medix.
His syringe arm has a clear part near the top in LEGO, but in animated form, it is gray.
His LEGO set instructions show that he can flip his top jaw upside down, to make another face. This transforms his horns into a moustache. This ability is not seen in Nixel, Nixel, Go Away, though.
His feet are similar to Krog's, but with different colored toes.
At the 2016 New York Toy Fair, his horns and mirror on his head were missing.
Save for the opening sequence, he is missing his syringe arm in Nixel, Nixel, Go Away; instead sporting a regular arm. This is similar to Camillot's lack of an axe arm in Every Knight Has Its Day.
He is named in the credits of Nixel, Nixel, Go Away as "Dr. Surgeo."
Behind the Scenes
Name and basis
Surgeo appears to resemble a surgeon. His name also suggests this. His name also appears to mix "surgeon", what he is based on, with the name "Sergio".
Voice
In the TV series, and where sound clips are used, Surgeo is voiced by Jess Harnell. Like Krog, he has a thick Russian accent.
Real-life history
Early development
Surgeo was seen being animated by Miranda Dressler in the documentary series The Wonderful World of Mixels in December 2015.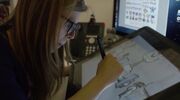 Reveals
On October 11, 2015, official images of the sets of Surgeo and the rest of Series 7 and 8 were leaked in LEGO's online server.[1]
On December 20, 2015, Surgeo appeared in artwork with the rest of Series 8 in a Russian consumer catalog.[2]
Surgeo reappeared with the rest of Series 7 through 9 at Toy Fairs in late January and early February 2016.[3][4]
Content
Surgeo debuted in the TV series on October 1, 2016 in Nixel, Nixel, Go Away, while his LEGO set officially became available on June 1st with the rest of Series 8.
Gallery
Main article: Surgeo/Gallery
Appearances
Games

Other

Mixels Websites

Breaking News

Series 8
Doctors Give Apple Total Makeover
Mixopolis Citizens Point to Splasho as Their BFF (Best Friend Forever)
Nixel with Broken Leg Flees Hospital

Mini Movies

Attempted Bank Robbery
Strange Medix Mixels experiment creates new Mixels Max

LEGO Club Magazines

Maximum Mixel Max Action!
Sources and References
External links
Characters
Mixels

Nixels
King Nixel

/ Major Nixel


/ Muscle Nixel

/ Flyswatter Nixel

/ Boomerang Nixel

/ Cannon Nixel

/ Boxer Nixel
/ Catch Up Nixel
/ Painted Nixels

/ Tentacle Nixel

/ Nixie

/ Nixel Guard


Other Species
Maximum Mixel

/ Mixamals
/ Living Flames

/ Chickens

Ad blocker interference detected!
Wikia is a free-to-use site that makes money from advertising. We have a modified experience for viewers using ad blockers

Wikia is not accessible if you've made further modifications. Remove the custom ad blocker rule(s) and the page will load as expected.