This article or section is about a topic that some consider not to be canon




While official, this page or section is thought to be non-canon.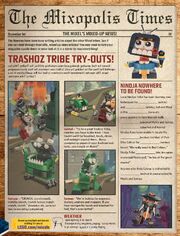 The Mixopolis Times is the newspaper of Mixopolis. It was used as a one page activity sheet for the November/December 2016 LEGO Magazine. It featured various Series 9 Mixels.
Synopsis
The page features three activities for the reader to solve, figuring out news around Mixopolis.
Characters
Trivia
This was the last Mixels content to ever be in LEGO Club Magazine.
Errors
The Newzers are accidentally called the "Newsies".
Compax and Gobbol have swapped bios.
Ad blocker interference detected!
Wikia is a free-to-use site that makes money from advertising. We have a modified experience for viewers using ad blockers

Wikia is not accessible if you've made further modifications. Remove the custom ad blocker rule(s) and the page will load as expected.