Weldos Max

Information
Cartoon Appearances
Mixels Rush
Primary Mixel
Kramm
Secondary Mixel
Forx
Tertiary Mixel
Wuzzo
Purpose
To demolish a building (LEGO stop motion video)
Ability(ies)
Can shoot oil from his jackhammer
Demolition abilities
The Weldos Max is a Max that appeared in Mixels Rush.
Physical Appearance
This Max resembles Kramm the most.
The Weldos Max has one of Wuzzo's eyes with sharp teeth at the sides of it. He has a large crane on his head with a wrecking ball. His right arm is black, yellow and grey striped, like his hands. However, his two fingers have two lights and small thumbs. At the left side, he has a drill arm similar to Kramm except he is round jointed and mostly different. His feet are yellow and black with Wuzzo's toes and bear a similarity to boots. His horns are curvy and grey.
Set Information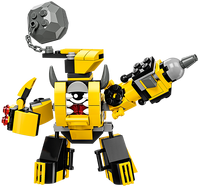 The Weldos Max can be built using parts combined from
Mixels
sets
41545 Kramm
,
41546 Forx
, and
41547 Wuzzo
. Extra parts are left over after construction. Instructions are available on the
LEGO
website
downloads page.
Trivia
Gallery
Main article: Weldos Max/Gallery
External links
Maxes
Mixels Series 6 (October 2015)
LEGO sets

Weldos
41545 Kramm

/ 41546 Forx

/ 41547 Wuzzo
(King Nixel)
Weldos Max


Glorp Corp cousins
41548 Dribbal

/ 41549 Gurggle

(Cubit) / 41550 Slusho

(Nixel)
Glorp Corp Max

Munchos
41551 Snax

/ 41552 Berp

(Nixel) / 41553 Vaka-Waka


Munchos Max