Who's In The Mix
Information
Release Date(s)
February 3, 2015
Platform
Online
Current Version
Series 6
Who's In The Mix? is a game on the LEGO Mixels website. The point of the game is to figure out which two Mixels are in a certain mix or murp.
Gameplay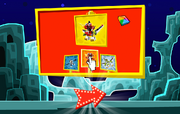 The player is given 60 seconds in the game.
They must guess which two Mixels are used in the mix shown on each level, based on the ones shown. If the player gets it correct, they will obtain a cubit. Getting four in a row correct will give the player a time boost power-up. If unsuccessful, the image of the mix will be blocked by the Nixels thumbs-down symbol, and the player will continue to the next level with no cubit.
Throughout the game, Nixels will appear on the mix image and will block the player's view, making it a challenge for the player. This can be easily removed using the bomb power-up that sometimes appears on the screen. Another power-up consists of a time boost of either five or ten seconds, the ten second one sometimes automatically appearing after a few correct answers.
Once finished, the player will be able to view the gallery of mixes that the player has encountered.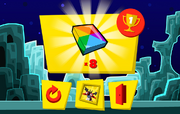 Trivia
This game is the sequel to Mixels Mania. As such, no series later than series 3 appear in Mixels Mania, while only series 4, 5 and 6 Mixels appear in Who's In The Mix.
At the end of the game when you win, you can hear music from the beginning of Mixed Up Special (specifically, Epic Comedy Adventure). After it finishes, the credits music from the same episode will play on loop.
When the game was first released, it automatically began when the player clicked the Games tab. A few days later, an extra page was added to click on.
Various foreign Mixels websites lack this game.
Instead of having separate modes for each series, like Mixels Mania, this game combines all of the mixes of all three series, lengthening the game options with each update.
Bugs/Glitches
The game will sometimes freeze after it ends, causing the results screen to never show up, with the music merely looping on a blank background.
When clicking two Mixels after clicking a bomb, the game will freeze.
Gallery
Main article: Who's In The Mix/Gallery
External links
Ad blocker interference detected!
Wikia is a free-to-use site that makes money from advertising. We have a modified experience for viewers using ad blockers

Wikia is not accessible if you've made further modifications. Remove the custom ad blocker rule(s) and the page will load as expected.