The Wiztastics Max is a Max that made its debut in Calling All Mixels.
Physical Appearance
Overall, this Max resembles Mesmo the most.
He has Mesmo's eyes and hats. He also has Wizwuz-like legs with Magnifo's hands as feet with purple thighs and Wizwuz's tail with several dark blue and purple accents with Wizwuz' smoke on the tip. His head is black with purple accents in the middle with nine teeth and a purple jaw. He also has Mesmo's wings.
Biography
The Max was formed to fight King Nixel after discovering the Mixamajig was a hoax. He then Mixed with the other Maxes to form the Ultra-Miximum Max. ("A Quest for the Lost Mixamajig")
Set Information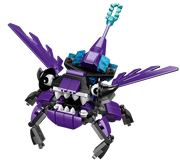 The Wiztastics Max can be built using parts combined from
Mixels
sets
41524 Mesmo
,
41525 Magnifo
, and
41526 Wizwuz
. Extra parts are leftover after construction. Instructions are available on the
LEGO
website
downloads page.
Trivia
His eyelid hats somewhat resemble horns.
In his LEGO model, his eyes and hats are sideways, but they are upright in his animation model.
In Mixels Rush, he has no bubbles on his tail.
Gallery
Main article: Wiztastics Max/Gallery
External links
Maxes