The Wiztastics Show is a magic show performed by the Wiztastics at the Magic Tent.
Description
The Wiztastics Show has Magnifo, Mesmo, and Wizwuz performing magic tricks to entertain Mixels. It can be viewed on the Magic Tent's stage.
It appears to be very obscure, which is probably why many are unimpressed by Magnifo's acts. So far, the only Mixel who comes to the Wiztastics Show is Vulk, who "loves" them.
Advertisement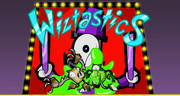 Multiple ways of advertising for the shows can be viewed in the Mixels Land. One of the ads shows a poster of Magnifo with the title saying "Wiztastics" above him in an electrical design.
Another type of advertisement consists of putting signs all around the Magic Tent, with some pointing to the Magic Tent, with others saying "WOW" or having certain symbols.
Yet another way includes the Wiztastics doing self-advertising, by going around Mixel Land and talking about the show. This ends up working less well, as Magnifo has a tendency to forget his lines and make a fool of himself.
Background
The Wiztastics Show is first seen in Murp Romp, where the Wiztastics are performing. Wizwuz and Mesmo are juggling while Magnifo is doing a hat trick. The Scorpi & Glurt Murp climbs up to the top of the stage, where the remaining Glorp Corp and Spikel members try to catch him. Torts and Mesmo Mix and catch the Murp, and all of them fall into Magnifo's trick due to broken rafters, causing Glurt and Scorpi to un-Murp.
Trivia
There was a previous magic show at some point, though it ended in disaster thanks to one of Magnifo's tricks ending with him accidentally setting his top hat on fire; this burnt him to ashes and caused the audience to laugh at him.
Ad blocker interference detected!
Wikia is a free-to-use site that makes money from advertising. We have a modified experience for viewers using ad blockers

Wikia is not accessible if you've made further modifications. Remove the custom ad blocker rule(s) and the page will load as expected.